Google AdX Partners are also known as Google resellers. They help websites and apps to optimize ad space and increase revenue by 100%. Google AdX or MCM Ads don't need approval from Google AdSense. Like AdSense, Google AdX partners show high-quality advertisements and improve user experience and bounce rate. Google has certified all AdX partners. That is why you don't have to worry about any policy violations. However, choosing the best AdX networks for websites and apps is essential to increase revenue.
Who is Google AdX partner?
Google AdX Partners or Google AdX Resellers are companies who have experts in Google AdX, Google Ad Manager, Google AdMob, and other products of Google. These companies are certified by Google, so they keep intact with Google in case of any problem. These companies are also called Google Publishing Partners. They use a premium Google ad manager account to help apps and websites to maximize revenue and ROI.
If you use a Google ad manager account to monetize your website and app, then you also have to look after lots of things like creating ad inventory, setting CPM rates, payments, and much more. That is why app and website owners prefer Google AdX partners, as they make it easier for you to focus on website traffic while they do the rest. Once you get approval from Google AdX partners, you can monetize in two ways. You can either select JS script (works through AI engine) or manual ad unit placements.
Google AdX Partners Requirements
All Google AdX partners ask for different requirements. Such as some require low traffic, whereas some require heavy traffic. Moreover, a website should also comply with Google ad manager policy, just like Google AdSense. Any website containing pirating, hacking, nudity, and other violations won't get approved.
Are you looking for the Best Google AdX partners? This article has got you covered. Following is the list of best Google AdX partners for websites and apps. All these Google AdX partners are safe and well-reputed as they are certified by Google.
Best AdX Networks for Websites and Apps In 2023
Following is the list of few best adx networks for websites and apps:
Black Media Adx
The most popular and best Google AdX partner is Black Media Adx. A lot of big names are using black media adx to optimize their ad revenue. Over 50+ ad networks are linked with black media adx to boost revenue. This ad exchange includes Google and media.net. The best part of Black Media Adx is that it can recover your ad blocker revenue. Moreover, they provide high impression value and bid on multiple demands. Moreover, every publisher is assigned an account manager to solve their queries 24/7. Only heavy-traffic websites can access BlackMediaAdx.
MonetizeMore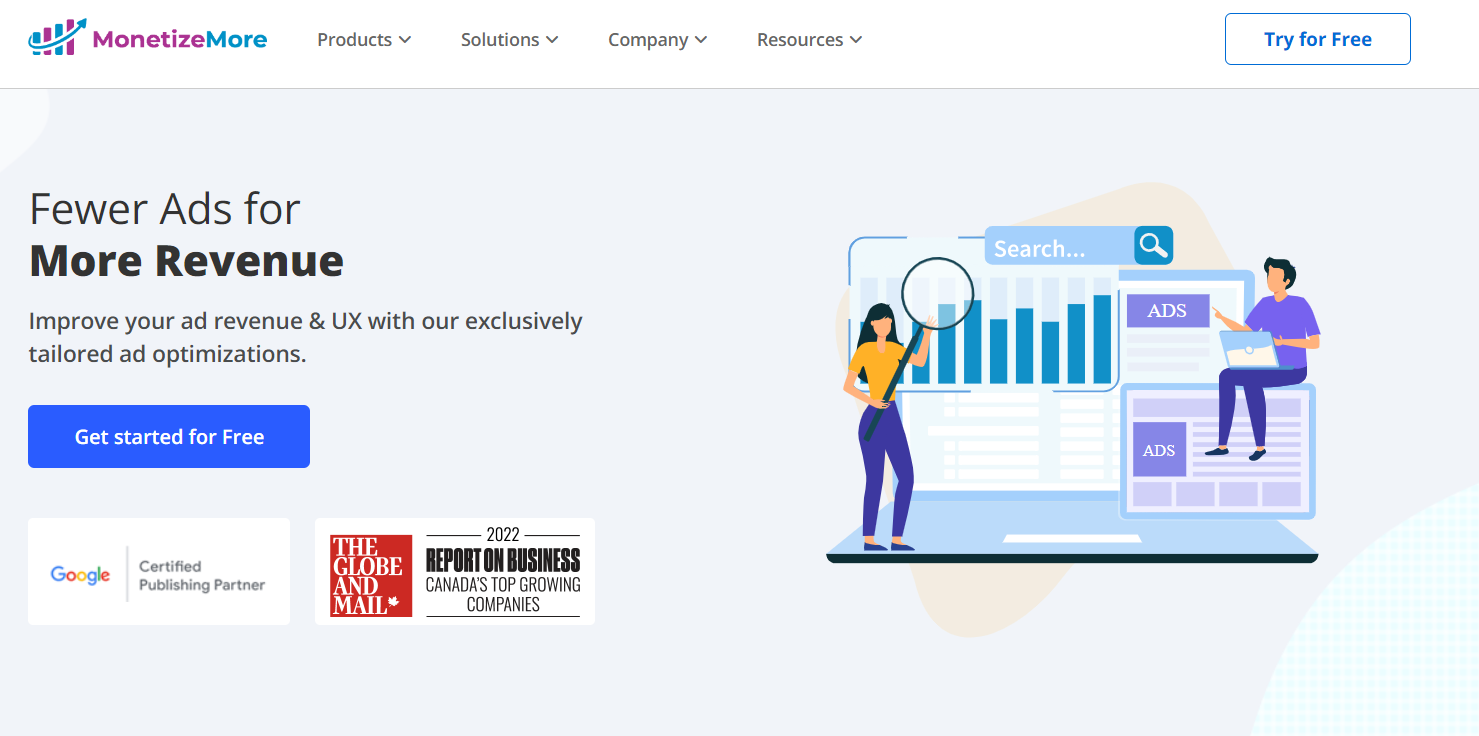 Don't worry if you can't access BlackMediaAdx. You can access MonetizeMore to optimize ad revenue. They give you a dedicated account manager. The best part about MonetizeMore is that it accepts low-traffic websites. MonetizeMore optimizes ads and boosts revenue once you purchase its fixed-value plans or a portion of your earnings.
Optad360
Many publishers like Optad360 because it provides transparency on reports and eCPM. Like AdSense, Optad360 shows ads at a quick speed. It accepts high-traffic websites. Optad360 is certified via Google Publishing Partner. It provides four different payment methods.
AdPushup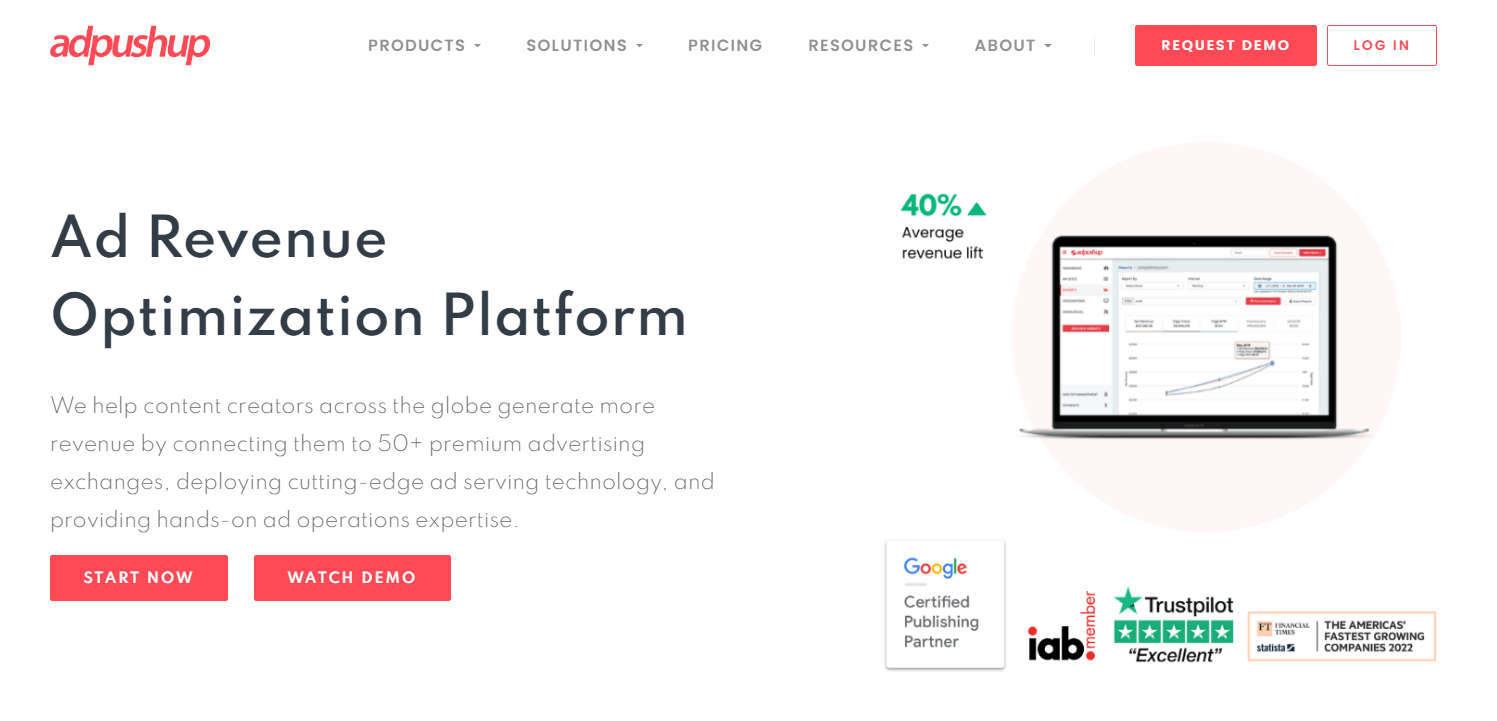 This is another best Google AdX partner that approve low traffic. AdPushup is popular for providing a comprehensive dashboard to examine ad reports. You don't need an MCM approval to access AdPushup. So, you can start by just signing up. AdPushup is your go-to Google AdX partner if you want to place ad units and optimize ads manually.
Ezoic
Some years ago, Ezoic used to approve high-traffic websites only. Now, it accepts all low and high-traffic websites. You can run ad testing and optimize revenue yourself through Ezoic. Moreover, Ezoic provides you with a panel to run things manually.
Are you interested to know Google Adx and Google AdSense which one is best and how ?
Conclusion
This article has mentioned the top Google AdX partners certified by Google. All Google AdX partners guarantee on-time payment and results. All Google AdX partners enable businesses to increase the CPM rate and optimize ads to maximize overall revenue. Now you know which Google AdX partners would be suitable for your needs.